SCHOOL EVENTS
Hindi Diwas
14 Sep, 2018
Blue Bird High School, Sector-16, Panchkula observed Hindi Diwas with great fanaticism and enthusiasm. Students decorated boards and had program with inspirational speeches in Hindi. The first day of the week began with speech on importance of Hindi in today's era. Throughout the week on each day one or the other activity in Hindi in the form of poem recitation , proverbs and shlokas by the students on how to make Hindi a progressive language was conducted . The conclusion of Hindi Phagwara was consummated by special assembly in which the students recited poems, dohas inspirational Idioms.
National Children Science Congress 2018
13 Sep, 2018
One Day Seminar on National Children Science Congress 2018 was held at Blue Bird High School on 13th September, 2018. The resource person of this seminar was Dr. Rajiv Kochar and Ms. Nirmal Sharma. 75 teachers from various schools attended the seminar.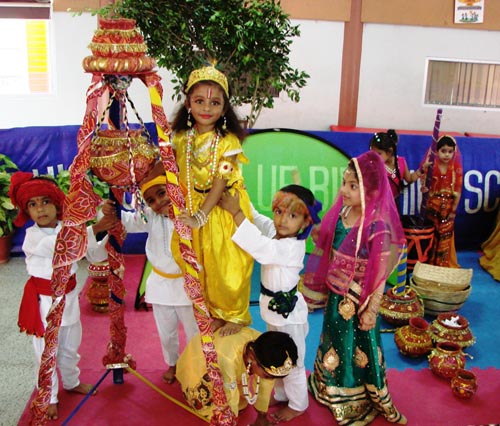 Janmashtami Festival
01 Sep, 2018
Janmashtami festival was celebrated with great zeal by the students at Blue Bird High School. A special assembly was conducted to mark the birth of the deity. Students of the Pre-Primary wing presented various lifetime Jhankis of lord Krishna , depicting the birth place of Lord Krishna , kalia naag, rass lila, makkhan chori, goverdhan perbat and Krishna Jhoola. All the tiny tots were dressed up as gopies , brigvasies , Radha and Krishna, wearing wonderful smiles on their faces. They wore peacock feathers as head gears and decorated matkis and flutes. Celebration conveyed the massage that good always wins over the bad. Parents also visited the school and enjoyed the birth day of little Krishna.